From Roger Perron: Homeowner Maintenance Tips for June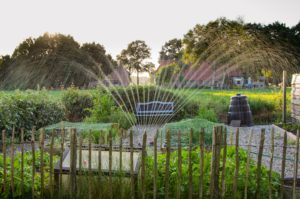 Greetings,

Welcome to the Summer of 2020! Summer officially begins on Saturday June 20th so let's get right into the top five homeowner tips for the coming season:

1. Check window screens to keep the bugs out!

Why are there so many more bugs around in the summer? And why do we find more of them in our homes?

It's because insects are temperature dependent. In the cold weather, their metabolism is slower and in the warmer months they become more active, searching for food more intently.  Their growth and mating peaks in the summer as well.

What better reason to check your window screens and screen doors carefully in the warm weather for any holes or cracks! Repair them with fiberglass mesh screen tape for smaller holes. For a lot of damage, consider replacing them completely.

2. Keep cooling systems in good shape

Home repairmen are exempt from the "stay at home" orders as home repairs and remodeling are considered essential functions.

If you have a whole-house cooling system, schedule a maintenance visit to keep it in top shape.

Other tips would be to use block-out curtains to keep out heat and sunlight, keep the windows closed while the A/C is running, and dust and clean ceiling fans and use them to help circulate the air.

Consider investing in a smart thermostat that adjusts the temperature automatically in order to save money on energy bills.

3. Check into a "smart" sprinkler system

A smart sprinkler controller is like a smart thermostat for your garden or yard. It optimizes your in-ground watering system by auto-adjusting to weather and soil conditions.

It creates a healthy landscape while cutting water use. Instead of fixed timers, these systems draw on data from sensors, weather forecasts and plant-care databases to determine watering needs and deliver just enough moisture at just the right time – and with a reduced water bill.

4. Clean the shower heads

Shower heads need to be cleaned occasionally. They can accumulate soap, shampoo, mineral deposits, mold and mildew over time. This causes unhealthy bacteria build-up and lowers the water pressure.

Here are a couple of easy cleaning methods:
Place a rubber band over the top of the shower head. Make sure it fits tightly. Use a baggie and fill it three-fourths of the way up with white vinegar. Attach the baggie to the shower head by slipping it under the rubber band. Keep it securely fastened. Leave it there for an hour, remove it, and turn on the water to flush it clean.
For an extra dirty and clogged shower head, fill the plastic baggie with 1/3 cup baking soda and 1 cup vinegar. This will make a strong mixture of cleaning bubbles. Attach to shower head and leave there for an hour.
5. Power-wash while the weather is warm
Seize the opportunity while the weather is warm and dry to power-wash your home, front porch, walkways or stairs. If you have a deck, power washing and resealing it will keep the wood looking bright and prevent it from splitting or fading in color.
Enjoy your home and have a great June!
Roger Perron Design and Construction
www.RogerPerron.com
323-664-7001, Ext. 1