Home Improvement Trends: from Roger Perron, Design-Build Contractor

Several key economic indicators are predicting a major increase in home improvement in the U.S. for 2016. The U.S. Census Bureau predicts homeowner projects to reach $155 billion by the third quarter. Backing this up is an analysis done by the Joint Center for Housing Studies at Harvard University.
The Center releases a "LIRA" report each quarter, which is the "Leading Indicator of Remodeling Activity." The LIRA analysis shows that home remodeling will accelerate from 4.3% in the first quarter of 2016 to 7.6% in the third quarter.
Chris Herbert, Managing Director of the Joint Center said: "2016 is looking to be a stronger year for home renovation activity compared to 2015, thanks to the continued recovery in the owner-occupied housing market."
The "Leading Indicator of Remodeling Activity" report makes use of several economic indicators that historically have had strong correlations to home remodeling spending. Some of the indicators used by LIRA include:
• National Association of Home Builders' Remodeling Market Index-Future Expectations
• National Association of Realtors'® Pending Home Sales Index
• U.S. Census Bureau's Single Family Housing Starts
• U.S. Census Bureau's Retail Sales at Building Materials and Supplies Dealers
• U.S. Census Bureau's Manufacturers' Shipments of Construction Materials, Wood Products and Household Appliances
• Bureau of Labor Statistics' Number of Employees of Residential Remodelers
As for the local Los Angeles market, the U.S. Consumer Financial Protection Bureau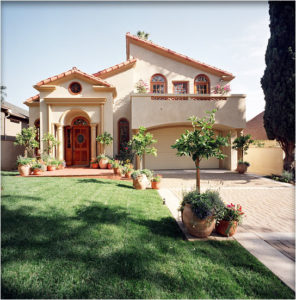 ranks L.A. as the top #1 spot for home remodeling. This is shown in the "Top 10" chart below.
Chart of America's Home Improvement Hot Spots
Home Improvement Loans (over a 5-year period)
1 Los Angeles CA       14,902
2 Orange CA               7,271
3 San Diego CA           5,133
4 Santa Clara CA         4,559
5 Cook IL                   4,120
6 Middlesex MA           4,099
7 King WA                  3,424
8 Alameda CA             3,234
9 Honolulu HI             3,073
10 Maricopa AZ           2,906
This home improvement news is shared by Roger Perron Design and Construction, a leading Los Angeles design-build firm. A design-build firm is one that saves the homeowner time and money by having the design team (architects and interior designers) and the construction team (general contractor, electricians, carpenters, plumbers, etc.) all within the same company.
Per the Design Build Institute of America, this approach gives homeowners the benefit of a 6% lower overall project cost and a 12% faster construction speed.
For more information or to schedule a complimentary home design consultation with Roger Perron or his architect call (323) 664-7001 or visit http://www.RogerPerron.com.