Levin
Charles E. Levin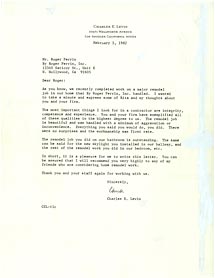 10471 Wellworth Avenue
Los Angeles, California 90024
February 5, 1982
Dear Roger:
As you know, we recently completed work on a major remodel job in our home that By Roger Perron, Inc., handled. I wanted to take a minute and express some of Rita's and my thoughts about you and your firm.
The most important things I look for in a contractor are integrity, competence and experience. You and your firm have exemplified all of these qualities in the highest degree to us. The remodel job is beautiful and was handled with a minimum of aggravation or inconvenience. Everything you said you would do, you did. There were no surprises and the workmanship was first rate.
The remodel job you did on our bathroom is outstanding. The same can be said for the new skylight you installed in our hallway, and the rest of the remodel work you did in our bedroom, etc.
In short, it is a pleasure for me to write this letter. You can be assured that I will recommend you very highly to any of my friends who are considering home remodel work.
Thank you and your staff for working with us.
Sincerely,
Charles E. Levin
CEL:tlc