Yates
William and Ever Yates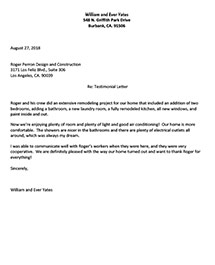 548 N. Griffith Park Drive
Burbank, CA. 91506
August 27, 2018
Roger Perron Design and Construction
3171 Los Feliz Blvd., Suite 306
Los Angeles, CA. 90039
Re: Testimonial Letter
Roger and his crew did an extensive remodeling project for our home that included an addition of two bedrooms, adding a bathroom, a new laundry room, a fully remodeled kitchen, all new windows, and paint inside and out.
Now we're enjoying plenty of room and plenty of light and good air conditioning! Our home is more comfortable. The showers are nicer in the bathrooms and there are plenty of electrical outlets all around, which was always my dream.
I was able to communicate well with Roger's workers when they were here, and they were very cooperative. We are definitely pleased with the way our home turned out and want to thank Roger for everything!
Sincerely,
William and Ever Yates