Bernstein, MD
Paula Bernstein, Ph.D., M.D.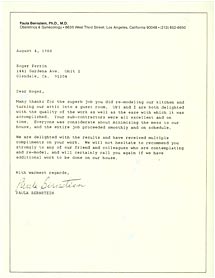 Obstetrics & Gynecology
8635 West Third Street" Los Angeles, California 90048
(213) 642-6650
August 4, 1988
Dear Roger,
Many thanks for the superb job you did remodeling our kitchen and turning our attic into a guest room. Uri and I are both delighted with the quality of the work as well as the ease with which it was accomplished. Your subcontractors were all excellent and on time. Everyone was considerate about minimizing the mess to our house, and the entire job proceeded smoothly and on schedule.
We are delighted with the results and have received multiple compliments on your work. We will not hesitate to recommend you strongly to any of our friends and colleagues who are contemplating a remodel, and will certainly call you again if we have additional work to be done on our house.
With warmest regards,
Paula Bernstein