Roth
Roth, Laube-Roth and Associates, Inc.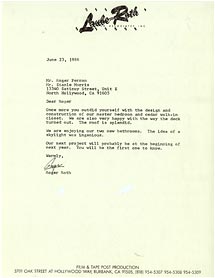 June 23, 1986
Dear Roger,
Once more you outdid yourself with the design and construction of our master bedroom and cedar walk-in closet. We are also very happy with the way the deck turned out. The roof is splendid.
We are enjoying our two new bathrooms. The idea of a skylight was ingenious.
Our next project will probably be at the beginning of next year. You will be the first one to know.
Warmly,
Roger Roth
FILM & TAPE POST PRODUCTION
3701 OAK STREET AT HOLLYWOOD WAY" BURBANK, CA 91505
(818) 954-5307
(818) 954-5308
(818) 954-5309