Jarrin
Los Angeles Dodgers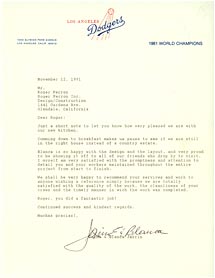 1000 Elysian Park Avenue
Los Angeles, Calif. 90012
1981 World Champions
November 12, 1991
Dear Roger:
Just a short note to let you know how very pleased we are with our new kitchen.
Coming down to breakfast makes us pause to see if we are still in the right house instead of a country estate.
Blanca is so happy with the design and the layout, and very proud to be showing it off to all of our friends who drop by to visit. I myself am very satisfied with the promptness and attention to detail you and your workers maintained throughout the entire project from start to finish.
We shall be very happy to recommend your services and work to anyone wishing a reference simply because we are totally satisfied with the quality of the work, the cleanliness of your crews and the timely manner in which the work was completed.
Roger, you did a fantastic job!
Continued success and kindest regards.
Muchas gracias!
Jaime & Blanca Jarrin