Mutter
Golden Pacific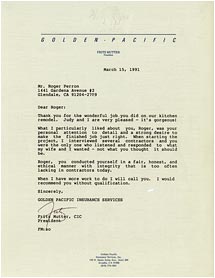 Frit Mutter
President
March 15, 1991
Dear Roger:
Thank you for the wonderful job you did on our kitchen remodel. Judy and I are very pleased –it's gorgeous!
What I particularly liked about you, Roger, was your personal attention to detail and a strong desire to make the finished job just right. When starting the project, I interviewed several contractors and you were the only one who listened and responded to what my wife and I wanted – not what you thought it should be.
Roger, you conducted yourself in a fair, honest, and ethical manner with integrity that is too often lacking in contractors today.
When I have more work to do, I will call you. I would recommend you without qualification.
Sincerely,
GOLDEN PACIFIC INSURANCE SERVICES
Fritz Mutter, CIC
President
FM:so