DiMeo
Roger,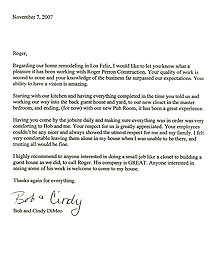 Regarding our home remodeling in Los Feliz, I would like to let you know what a pleasure it has been working with Roger Perron Design and Construction. Your quality of work is second to none and your knowledge of the business far surpassed our expectations. Your ability to have a vision is amazing.
Starting with our kitchen and having everything completed in the time you told us and working our way into the back guest house and yard, to our new closet in the master bedroom, and ending, (for now) with our new Pub Room, it has been a great experience.
Having you come by the jobsite daily and making sure everything was in order was very comforting to Bob and me. Your respect for us is greatly appreciated. Your employees couldn't be any nicer and always showed the utmost respect for me and my family. I felt very comfortable leaving them alone in my house when I was unable to be there, and trusting all would be fine.
I highly recommend to anyone interested in doing a large job or small job, to call Roger. His company is GREAT. Anyone interested in seeing some of his work is welcome to come to my house.
Thanks again for everything.
Bob and Cindy DiMeo