Hildebrand
Gary & Lisa Hildebrand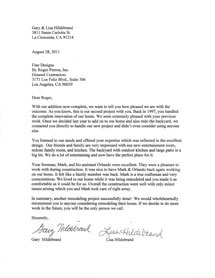 3811 Santa Carlotta Street
La Crescenta, CA 91214
August 28, 2011
Dear Roger,
With our addition now complete, we want to tell you how pleased we are with the outcome. As you know, this is our second project with you. Back in 1997, you handled the complete renovation of our home. We were extremely pleased with your previous work. Once we decided last year to add on to our home and also redo the backyard, we contacted you directly to handle our new project and didn't even consider using anyone else.
You listened to our needs and offered your expertise which was reflected in the excellent design. Our friends and family are very impressed with our new entertainment room, redone family room, and kitchen. The backyard with outdoor kitchen and large patio is a big hit. We do a lot of entertaining and now have the perfect place for it.
Your foreman, Mark, and his assistant Orlando were excellent. They were a pleasure to work with during construction. It was nice to have Mark & Orlando back again working on our home. It felt like a family member was back. Mark is a true craftsman and very conscientious. We lived in our home while it was being remodeled and you made it as comfortable as it could be for us. Overall the construction went well with only minor issues arising which you and Mark took care of right away.
In summary, another remodeling project successfully done! We would wholeheartedly recommend you to anyone considering remodeling their home. If we decide to do more work in the future, you will be the only person we call.
Sincerely,
Gary Hildebrand
Lisa Hildebrand