Monahan
Ken Monahan & Associates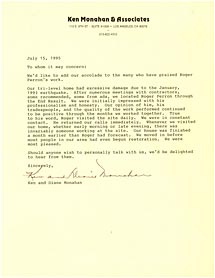 110 9th St, Suite A1009
Los Angeles, CA 90079
213-622-4312
July 15, 1995
To whom it may concern:
We'd like to add our accolade to the many who have praised Roger Perron's work.
Our tri-level home had excessive damage due to the January 1993 earthquake. After numerous meetings with contractors, some recommended, some from ads, we located Roger Perron through the End Result. We were initially impressed with his professionalism and honesty. Our opinion of him, his tradespeople, and the quality of the work performed continued to be positive through the months we worked together. True to his word, Roger visited the site daily. We were in constant contact. He returned our calls immediately. Whenever we visited our home, whether early morning or late evening, there was invariably someone working at the site. Our house was finished a month earlier than Roger had forecast. We moved in before most people in our area had even begun restoration. We were most pleased.
Should anyone wish to personally talk to us, we'd be delighted to hear from them.
Sincerely,
Ken and Diane Monahan