Benton
May 3, 1987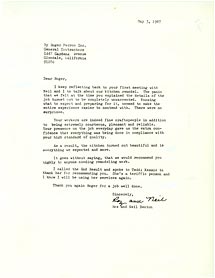 Dear Roger,
I keep reflecting back to your first meeting with Neil and I to talk about our kitchen remodel. The panic that we felt at the time you explained the details of the job turned out to be completely unwarranted. Knowing what to expect and preparing for it seemed to make the entire experience easier to contend with. There were no surprises.
Your workers are indeed fine craftspeople in addition to being extremely courteous, pleasant and reliable. Your presence on the job every day gave us the extra confidence that everything was being done in compliance with your high standard of quality.
As a result, the kitchen turned out beautiful and is everything we expected and more.
It goes without saying that we would recommend you highly to anyone needing remodeling work.
I called the End Result and spoke to Teddi Kessie to thank her for recommending you. She's a terrific person and I know I will be using her services again.
Thank you again, Roger, for a job well done.
Sincerely,
Roz and Neil Benton