Magedman
Jerry and Diane Magedman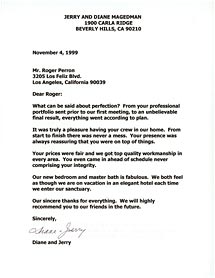 1900 Carla Ridge
Beverly Hills, CA 90210
November 4, 1999
Dear Roger:
What can be said about perfection? From your professional portfolio sent prior to our first meeting, to an unbelievable final result, everything went according to plan.
It was truly a pleasure having your crew in our home. From start to finish there was never a mess. Your presence was always reassuring that you were on top of things.
Your prices were fair and we got top-quality workmanship in every area. You even came in ahead of schedule never compromising your integrity.
Our new bedroom and master bath is fabulous. We both feel as though we are on vacation in an elegant hotel each time we enter our sanctuary.
Our sincere thanks for everything. We will highly recommend you to our friends in the future.
Sincerely,
Diane and Jerry