Cochran
Robert and Laurie Cochran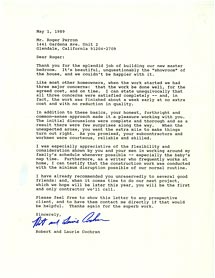 May 1, 1989
Dear Roger:
Thank you for the splendid job of building our new master bedroom. It's beautiful, unquestionably the "showroom" of the house, and we couldn't be happier with it.
Like most other homeowners, when the work started we had three major concerns: that the work be done well, for the agreed cost, and on time. I can state unequivocally that all three concerns were satisfied completely – and, in fact, the work was finished about a week early at no extra cost and with no reduction in quality.
In addition to these basics, your honest, forthright and common-sense approach made it a pleasure working with you. The initial discussions were complete and thorough and as a result there were few surprises along the way. When the unexpected arose, you went the extra mile to make things turn out right. As you promised, your subcontractors and workmen were courteous, reliable and skilled.
I was especially appreciative of the flexibility and consideration shown by you and your men in working around my family's schedule whenever possible–especially the baby's nap time. Furthermore, as a writer who frequently works at home, I can testify that the construction work was conducted with the minimum disruption possible of our normal routine.
I have already recommended you unreservedly to several good friends; and, when it comes time to do our next project, which we hope will be later this year, you will be the first and only contractor we'll call.
Please feel free to show this letter to any prospective client, and to have them contact me directly if that would be helpful. Thanks again for the superb work.
Sincerely,
Robert and Laurie Cochran