Jayme and Paul W.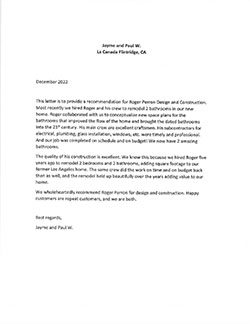 Jayme and Paul W.
La Canada Flintridge, CA
December 2022
This letter is to provide a recommendation for Roger Perron Design and Construction. Most recently we hired Roger and his crew to remodel 2 bathrooms in our new home. Roger collaborated with us to conceptualize new space plans for the bathrooms that improved the flow of the home and brought the dated bathrooms into the 21st century. His main crew are excellent craftsmen. His subcontractors for electrical, plumbing, glass installation, windows, etc. were timely and professional. And our job was completed on schedule and on budget! We now have 2 amazing bathrooms.
The quality of his construction is excellent. We know this because we hired Roger five years ago to remodel 2 bedrooms and 2 bathrooms, adding square footage to our former Los Angeles home. The same crew did the work on time and on budget back then as well, and the remodel held up beautifully over the years adding value to our home.
We wholeheartedly recommend Roger Perron for design and construction. Happy customers are repeat customers, and we are both.
Best regards,
Jayme and Paul W.