Partida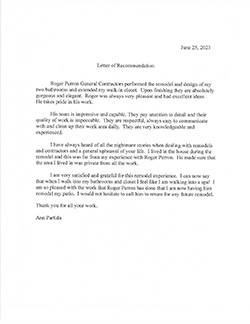 June 25, 2023
Letter of Recommendation
Roger Perron General Contractors performed the remodel and design of my two bathrooms and extended my walk-in closet. Upon finishing they are absolutely gorgeous and elegant. Roger was always very pleasant and had excellent ideas. He takes pride in his work.
His team is impressive and capable. They pay attention to detail and their quality of work is impeccable. They are respectful, always easy to communicate with and clean up their work area daily. They are very knowledgeable and experienced.
I have always heard of all the nightmare stories when dealing with remodels and contractors and a general upheaval of your life. I lived in the house during the remodel and this was far from my experience with Roger Perron. He made sure that the area I lived in was private from all the work.
I am very satisfied and grateful for this remodel experience. I can now say that when I walk into my bathrooms and closet I feel like I am walking into a spa! I am so pleased with the work that Roger Perron has done that I am now having him remodel my patio. I would not hesitate to call him to return for any future remodel.
Thank you for all your work.
Ann Partida