Levinson
Ellis Levinson & Cheryl Smith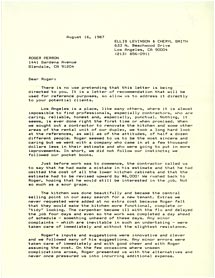 633 N. Beachwood Drive
Los Angeles, CA 90004
(213) 856-0911
August 16, 1987
Dear Roger:
There is no use pretending that this letter is being directed to you. It is a letter of recommendation that will be used for reference purposes, so allow us to address it directly to your potential clients.
Los Angeles is a place, like many others, where it is almost impossible to find professionals, especially contractors, who are caring, reliable, honest and, especially, punctual. Nothing, it seems, is ever done right the first time or when promised. When we sought out a contractor to renovate the kitchen and some other areas of the rental unit of our duplex, we took a long hard look at the references, as well as the attitudes, of half a dozen different people. Roger seemed to us to be the most sincere and caring but we went with a company who came in at a few thousand dollars less in their estimate and who were going to put in more improvements. In short, we did not follow our instincts; we followed our pocketbooks.
Just before work was to commence, the contractor called us to say that he had made a mistake in his estimate and that he had omitted the cost of all the lower kitchen cabinets and that the estimate had to be revised upward by $6,000! We rushed back to Roger, hoping that he would still be interested in the job. Not so much as a sour grape.
The kitchen was done beautifully and became the central selling point in our easy search for a new tenant. Extras we never requested were added at no extra cost because Roger felt that they would make the kitchen more functional, complete or "tidy" looking. The carpenter became ill with the flu and delayed the job four days and even so the work was completed a day ahead of schedule–something unheard of these days. Any minor complaints– which are inevitable in such an undertaking–were taken care of immediately and without the slightest resistance.
Roger's inputs and suggestions were innovative and clever and we followed many of his suggestions. Any minor errors were taken care of immediately and with good cheer and with Roger assuming the cost. On the few occasions where unseen complications arose, Roger presented us with the alternatives and never once pressured us into incurring additional expense.
Some parts of the renovation job in other parts of the house were handled by people to whom we subcontracted by ourselves. Do we wish we had let Roger handle it all! What a pain.
Anything which Roger handled was done right the first time or his people corrected it immediately. The others whom we hired on our own did not work anywhere near as well. Roger is not the least expensive guy in town, not when it comes to counting the dollars, but it is much harder to afford not using him. The time, trouble, frustration and stress which he saved us was invaluable. The quality of the work and of the materials was top-notch.
He is a man of ethics, caring, straightforwardness and good humor. We have recommended him to a half dozen of our friends already and we welcome any phone calls from prospective clients.
If this letter seems too good to be believed, we can only say that we had never met Roger before he gave us the estimate and that our feelings are for real. You can't afford a cheaper contractor. We would never even consider another contractor the next time we need work done.
What's more, although I (Ellis) am a comedian by trade, Roger did not know that in the fall I will be teaching a college course in effective consumerism, a course that deals with how to be a tough and smart consumer. I am difficult to please and Roger met the test.
Sincerely,
Ellis Levinson
Cheryl H. Smith