Ulman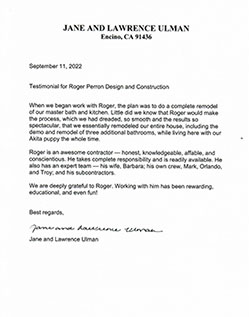 JANE AND LAWRENCE ULMAN
Encino, CA 91436 
September 11, 2022
Testimonial for Roger Perron Design and Construction 
When we began work with Roger, the plan was to do a complete remodel of our master bath and kitchen. Little did we know that Roger would make the process, which we had dreaded, so smooth and the results so spectacular, that we essentially remodeled our entire house, including the demo and remodel of three additional bathrooms, while living here with our Akita puppy the whole time. 
Roger is an awesome contractor — honest, knowledgeable, affable, and conscientious. He takes complete responsibility and is readily available. He also has an expert team — his wife, Barbara; his own crew, Mark, Orlando, and Troy; and his subcontractors.
We are deeply grateful to Roger. Working with him has been rewarding, educational, and even fun! 
Best regards,
Jane and Lawrence Ulman