Bernstein and Cymerman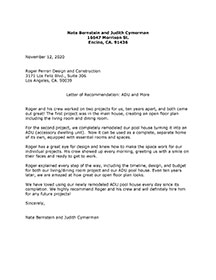 Nate Bernstein and Judith Cymerman
16647 Morrison St.
Encino, CA. 91436
November 12, 2020
Roger Perron Design and Construction
3171 Los Feliz Blvd., Suite 306
Los Angeles, CA. 90039
Letter of Recommendation: ADU and More
Roger and his crew worked on two projects for us, ten years apart, and both came out great! The first project was in the main house, creating an open floor plan including the living room and dining room.
For the second project, we completely remodeled our pool house turning it into an ADU (accessory dwelling unit). Now it can be used as a complete, separate home of its own, equipped with essential rooms and spaces.
Roger has a great eye for design and knew how to make the space work for our individual projects. His crew showed up every morning, greeting us with a smile on their faces and ready to get to work.
Roger explained every step of the way, including the timeline, design, and budget for both our living/dining room project and our ADU pool house. Even ten years later, we are amazed at how great our open floor plan looks.
We have loved using our newly remodeled ADU pool house every day since its completion. We highly recommend Roger and his crew and will definitely hire him for any future projects!
Sincerely,
Nate Bernstein and Judith Cymerman