Mills
Jon M. Mills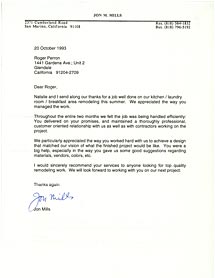 2371 Cumberland Road
Res. (818) 584-1852
San Marino, California 91108
Bus. (818) 796-5192
20 October 1993
Dear Roger,
Natalie and I send along our thanks for a job well done on our kitchen / laundry room / breakfast area remodeling this summer. We appreciated the way you managed the work.
Throughout the entire two months we felt the job was being handled efficiently: You delivered on your promises, and maintained a thoroughly professional, customer oriented relationship with us as well as with contractors working on the project.
We particularly appreciated the way you worked hard with us to achieve a design that matched our vision of what the finished project would be like. You were a big help, especially in the way you gave us some good suggestions regarding materials, vendors, colors, etc.
I would sincerely recommend your services to anyone looking for top quality remodeling work. We will look forward to working with you on our next project.
Thanks again.
Jon Mills