Campanella
Joseph Campanella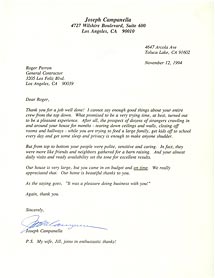 4727 Wilshire Boulevard, Suite 600
Los Angeles, CA 90010
4647 Arcola Ave
Toluca Lake, CA 91602
November 12, 1994
Dear Roger,
Thank you for a job well done! I cannot say enough good things about your entire crew from the top down. What promised to be a very trying time, at best, turned out to be a pleasant experience. After all, the prospect of dozens of strangers crawling in and around your house for months – tearing down ceilings and walls, closing off rooms and hallways – while you are trying to feed a large family, get kids off to school every day and get some sleep and privacy is enough to make anyone shudder.
But from top to bottom your people were polite, sensitive and caring. In fact, they were more like friends and neighbors gathered for a barn raising. And your almost daily visits and ready availability set the tone for excellent results.
Our house is very large, but you came in on budget and on time. We really appreciated that. Our home is beautiful, thanks to you.
As the saying goes, "It was a pleasure doing business with you!"
Again, thank you.
Sincerely,
Joseph Campanella
PS: My wife, Jill, joins in enthusiastic thanks!