Patterson
George & Sandi Patterson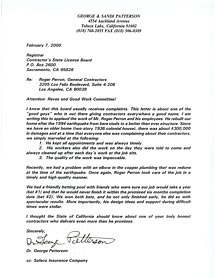 4554 Auckland Avenue
Toluca Lake, California 91602
(818) 760-2855 FAX (818) 506-0389
February 7, 2000
Registrar
Contractor's State License Board
P.O. Box 2600
Sacramento, CA 95826
Re: Roger Perron, General Contractors
3205 Los Feliz Boulevard, Suite 4-206
Los Angeles, CA 90039
Attention: Raves and Good Work Committee!
I know that this board usually receives complaints. This letter is about one of the "good guys" who is out there giving contractors everywhere a good name. I am writing this to applaud the work of Mr. Roger Perron and his employees. He rebuilt our home after the 1994 earthquake from bare studs to a better than ever structure. Since we have an older home (two-story 1936 colonial house) there was about $300,000 in damages and at a time that everyone else was complaining about their contractors, we simply marveled at the following:
He kept all appointments and was always timely.
His workers also did the work on the day they were told to come and always cleaned up after each day's work at the job site.
The quality of the work was impeccable.
Recently, we had a problem with an elbow in the copper plumbing that was redone at the time of the earthquake. Once again, Roger Perron took care of the job in a timely and high-quality manner.
We had a friendly betting pool with friends who were sure our job would take a year (bet #1) and that he would never finish it within the promised six months completion date (bet #2). We won both bets, and he not only finished early, he did so with spectacular results. More importantly, his design ideas and support during difficult times were stellar.
I thought the State of California should know about one of your truly honest contractors who delivers even more than he promises.
Sincerely,
Dr. George Patterson
cc: Safeco Insurance Company