Ealy and Russell
Bob Ealy and Barbara Russell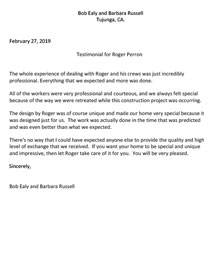 Tujunga, CA
February 27, 2019
Testimonial for Roger Perron
The whole experience of dealing with Roger and his crews was just incredibly professional. Everything that we expected and more was done.
All of the workers were very professional and courteous, and we always felt special because of the way we were treated while this construction project was occurring.
The design by Roger was of course unique and made our home very special because it was designed just for us. The work was actually done in the time that was predicted and was even better than what we expected.
There's no way that I could have expected anyone else to provide the quality and high level of exchange that we received. If you want your home to be special and unique and impressive, then let Roger take care of it for you. You will be very pleased.
Sincerely,
Bob Ealy and Barbara Russell