Thorburn, EA
INCOME AND CAPITAL GROWTH STRATEGIES, INC.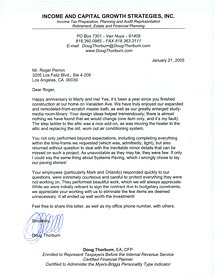 Income Tax Preparation, Planning and Audit Representation Retirement, Estate and Financial Planning
P.O. Box 7301, Van Nuys, CA 91409
818.360.0985 FAX 818.363.3111
Website: www.DougThorburn.com
January 21, 2005
Dear Roger,
Happy anniversary to Marty and me! Yes, it's been a year since you finished construction at our home on Vanalden Ave. We have truly enjoyed our expanded and remodeled-from-scratch master bath, as well as our greatly enlarged study-media room-library. Your design ideas helped tremendously; there is almost nothing we have found that we would change (one item only, and it's my fault). The stepladder to the attic was a nice add-on, as was moving the heater to the attic and replacing the old, worn-out air-conditioning system.
You not only performed beyond expectations, including completing everything within the time frame we requested (which was, admittedly, tight), but also returned without question to deal with the inevitable minor details that can be missed on such a project. As unavoidable as they may be, they were few. If only I could say the same thing about Systems Paving, which I wrongly chose to lay our paving stones!
Your employees (particularly Mark and Orlando) responded quickly to our questions, were extremely courteous and careful to protect everything they were not working on. They performed beautiful work, which we will always appreciate. While we were initially reticent to sign the contract due to budgetary constraints, we appreciate your working with us to eliminate the few items we deemed unnecessary. It all ended up well worth the investment!
Feel free to share this letter, as well as my office phone number, with others.
Sincerely,
Doug Thorburn