McCoy
The Real McCoy Fine Art & Graphic Design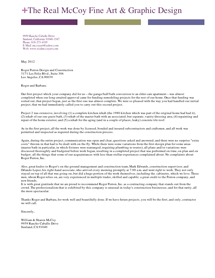 9959 Rancho Caballo Drive
Sunland, California 91040-1547
Phone: 818-273-4195
Web: www.realmccoyart.com
May 2012
Roger and Barbara:
Our first project which your company did for us—the garage/half bath conversion to an elder-care apartment—was almost completed when our long-awaited approval came for funding remodeling projects for the rest of our home. Once that funding was sorted out, that project began, just as the first one was almost complete. We were so pleased with the way you had handled our initial project, that we had immediately called you to carry out this second project.
Project 2 was extensive, involving (1) a complete kitchen rehab (the 1980 kitchen which was part of the original home had had it), (2) rehab of our one guest bath, (3) rehab of the master bath with an associated, but separate, vanity/dressing area, (4) repainting and repair of the home exterior, and (5) a rehab for the aging (and in a couple of places, leaky) concrete tile roof.
As in the first project, all the work was done by licensed, bonded and insured subcontractors and craftsmen, and all work was permitted and inspected as required during the construction process.
Again, during the entire project, communication was open and clear, questions asked and answered, and there were no surprise "extra costs" thrown in that had to be dealt with on the fly. While there were some variations from the first design plan for some areas (master bath in particular, in which fixtures were rearranged, requiring plumbing re-routes), all plans and/or variations were discussed thoroughly and budgeted before work began, resulting in a completed project that was performed on time, on plan and on budget; all the things that some of our acquaintances with less-than-stellar-experiences complained about. No complaints about Roger Perron, Inc.
Also, great kudos to Roger's on-the-ground management and construction team, Mark Edwards, construction supervisor, and Orlando Lopez, his right-hand associate, who arrived every morning promptly at 7:00 a.m. and went right to work. They not only stayed on top of all that was going on, but did a huge portion of the work themselves, including the cabinetry, which we love. These men, whom Roger relies on, are very experienced in multiple trades, skilled and capable; a great credit to the Perron company, and new friends.
It is with great gratitude that we are proud to reccommend Roger Perron, Inc. as a contracting company that stands out from the crowd. The professionalism that is exhibited by this company is unusual in today's construction businesses, and for that rarity, all the more spectacular.
Thanks Roger and Barbara, for work well and beautifully done. If we have future projects, you will be the first, and only, contractor we will call.
Sincerely,
William & Sharon McCoy
9959 Rancho Caballo Drive
Sunland, CA 91040