Bernstein, MD
Paula Bernstein, Ph.D., M.D.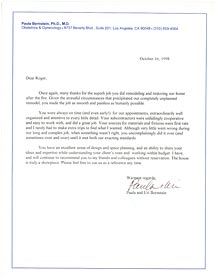 Obstetrics & Gynecology
8737 Beverly Blvd., Suite 201" Los Angeles, CA 90048
(310) 659-4564
October 16, 1998
Dear Roger,
Once again, many thanks for the superb job you did remodeling and restoring our home after the fire. Given the stressful circumstances that precipitated our completely unplanned remodel, you made the job as smooth and painless as humanly possible.
You were always on time (and even early!) for our appointments, extraordinarily well organized and attentive to every little detail. Your subcontractors were unfailingly cooperative and easy to work with, and did a great job. Your sources for materials and fixtures were first rate and I rarely had to make extra trips to find what I wanted. Although very little went wrong during our long and complex job, when something wasn't right, you uncomplainingly did it over (and sometimes over and over) until it met both our exacting standards.
You have an excellent sense of design and space planning, and an ability to share your ideas and expertise while understanding your client's taste and working within budget. I have, and will continue to recommend you to my friends and colleagues without reservation. The house is truly a showpiece. Please feel free to use us as a reference any time.
Warmest regards,
Paula and Uri Bernstein