Ferguson, School of Public Administration
University ofSouthern California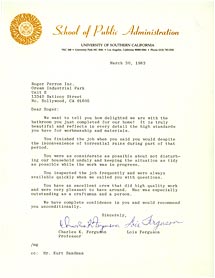 VKC 368 University Park-MC 0041
Los Angeles, California 90089-0041
Phone (213) 7643-2241
March 30, 1983
Dear Roger:
We want to tell you how delighted we are with the bathroom you just completed for our home! It is truly beautiful and reflects in every detail the high standards you have for workmanship and materials.
You finished the job when you said you would despite the inconvenience of torrential rains during part of that period.
You were as considerate as possible about not disturbing our household unduly and keeping the situation as tidy as possible while the work was in progress.
You inspected the job frequently and were always available quickly when we called you with questions.
You have an excellent crew that did high-quality work and were very pleasant to have around. Mac was especially outstanding as a craftsman and a person.
We have complete confidence in you and would recommend you unconditionally.
Sincerely,
Charles K. Ferguson, Professor
Lois Ferguson
cc: Mr. Kurt Sandman