McMillen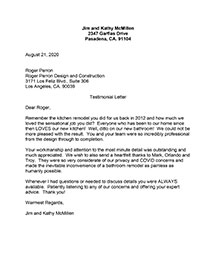 Jim and Kathy McMillen
2347 Garfias Drive
Pasadena, CA. 91104
August 21, 2020
Roger Perron
Roger Perron Design and Construction
3171 Los Feliz Blvd., Suite 306
Los Angeles, CA. 90039
Testimonial Letter
Dear Roger,
Remember the kitchen remodel you did for us back in 2012 and how much we loved the sensational job you did? Everyone who has been to our home since then LOVES our new kitchen! Well, ditto on our new bathroom! We could not be more pleased with the result. You and your team were so incredibly professional from the design through to completion.
Your workmanship and attention to the most minute detail was outstanding and much appreciated. We wish to also send a heartfelt thanks to Mark, Orlando and Troy. They were so very considerate of our privacy and COVID concerns and made the inevitable inconvenience of a bathroom remodel as painless as humanly possible.
Whenever I had questions or needed to discuss details you were ALWAYS available. Patiently listening to any of our concerns and offering your expert advice. Thank you!
Warmest Regards,
Jim and Kathy McMillen