Tweeten
June 10, 2013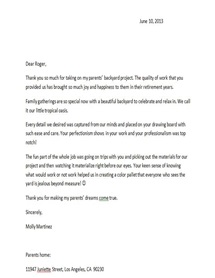 Dear Roger,
Thank you so much for taking on my parents' backyard project. The quality of work that you provided us has brought so much joy and happiness to them in their retirement years.
Family gatherings are so special now with a beautiful backyard to celebrate and relax in. We call it our little tropical oasis.
Every detail we desired was captured from our minds and placed on your drawing board with such ease and care. Your perfectionism shows in your work and your professionalism was top notch!
The fun part of the whole job was going on trips with you and picking out the materials for our project and then watching it materialize right before our eyes. Your keen sense of knowing what would work or not work helped us in creating a color pallet that everyone who sees the yard is jealous beyond measure! J
Thank you for making my parents' dreams come true.
Sincerely,
Molly Martinez
Parents home:
11947 Juniette Street, Los Angeles, CA  90230