Roth, Laube-Roth and Associates, Inc.
Laube-Roth and Associates, Inc.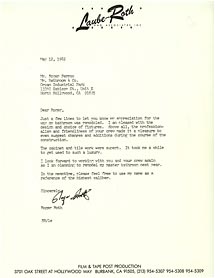 May 12, 1982
Dear Roger,
Just a few lines to let you know my appreciation for the way my bathroom was remodeled. I am pleased with the design and choice of fixtures. Above all, the professionalism and friendliness of your crew made it a pleasure to even suggest changes and additions during the course of the construction.
The cabinet and tile work were superb. It took me a while to get used to such a luxury.
I look forward to working with you and your crew again, as I am planning to remodel my master bathroom next year.
In the meantime, please feel free to use my name as a reference of the highest caliber.
Sincerely,
Roger Roth
FILM & TAPE POST PRODUCTION
3701 OAK STREET AT HOLLYWOOD WAY" BURBANK, CA 91505
(818) 954-5307
(818) 954-5308
(818) 954-5309