Julien, MD
Richard A. Julien, M.D.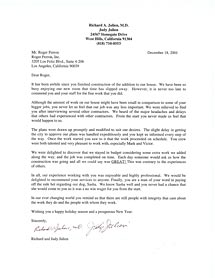 Judy Julien
24567 Stonegate Drive
West Hills, California 91304
(818) 710-0553
December 18, 2001
Dear Roger,
It has been a while since you finished construction of the addition to our house. We have been so busy enjoying our new room that time has slipped away. However, it is never too late to commend you and your staff for the fine work that you did.
Although the amount of work on our house might have been small in comparison to some of your bigger jobs, you never let us feel that our job was any less important. We were relieved to find you after interviewing several other contractors. We heard of the major headaches and delays that others had experienced with other contractors. From the start you never made us feel that would happen to us.
The plans were drawn up promptly and modified to suit our desires. The slight delay in getting the city to approve our plans was handled expeditiously and you kept us informed every step of the way. Once the work started you saw to it that the work proceeded on schedule. Your crew were both talented and very pleasant to work with, especially Mark and Victor.
We were delighted to discover that we stayed in budget considering some extra work we added along the way, and the job was completed on time. Each day someone would ask us how the construction was going and all we could say was GREAT! This was contrary to the experiences of others.
In all, our experience working with you was enjoyable and highly professional. We would be delighted to recommend your services to anyone. Finally, you are a man of your word in paying off the side bet regarding our dog, Sasha. We know Sasha well and you never had a chance that she would come to you, so it was a no-win wager for you from the start.
In our ever changing world you remind us that there are still people with integrity that care about the work they do and the people with whom they work.
Wishing you a happy holiday season and a prosperous New Year.
Sincerely,
Richard and Judy Julien