Hsu
She's Florists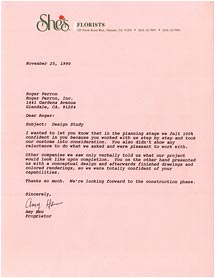 329 North Brand Blvd., Glendale, CA 91203
(818) 241-9905
(818) 241-9906
November 25, 1990
Dear Roger:
Subject: Design Study
I wanted to let you know that in the planning stage we felt 100% confident in you because you worked with us step by step and took our customs into consideration. You also didn't show any reluctance to do what we asked and were pleasant to work with.
Other companies we saw only verbally told us what our project would look like upon completion. You on the other hand presented us with a conceptual design and afterwards finished drawings and colored renderings, so we were totally confident of your capabilities.
Thanks so much. We're looking forward to the construction phase.
Sincerely,
Amy Hsu
Proprietor